THE PITTBURGH BLACK HAT SOCIETY NETWORK
Witches, Pagans, Heathen & Sundry Folk
...



The Pittsburgh Black Hat Society Network
Wednesday, November 4, 2009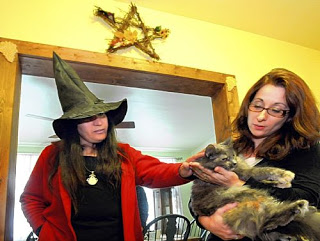 By Kathy Samudovsky
Bob Donaldson/Post-Gazette
Getting acquainted with Sue Arlott's cat, Jessie, are Je'Amour Matthews (left)...
Read Full Post »
By: Larissa Gula / Staff Writer
October 24th, 2011
Je'Amour Matthews grew up in a Roman Catholic household, but all the while her aunts were teaching her Italian Stregheria — a form of witchcraft,
Matthews knew she preferred the nature-based religion where followers worship nature personified in gods and goddesses. She protested go...
Read Full Post »